Expert massage therapists providing clinical services related to healing, repairing, and restoring physical function and ease as well as preventing future problems.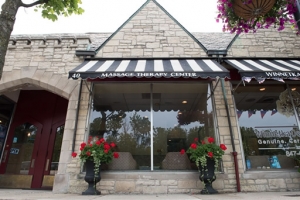 Massage Therapy Center of Winnetka was founded in 1989 by our director, John G. Louis, LMT, a licensed massage therapist, inventor and athletic trainer. Since that time, he and his staff of massage therapists have provided expert clinical services related to healing, repairing, and restoring physical function and ease as well as preventing future problems.
Our team of massage therapists have won numerous awards within the community for excellence in massage and are proud of our record. We hire only highly-experienced massage therapists with advanced training who do what they love and do best – heal. Many of our massage therapy specialists have been with us for over 10 years. Even more remarkable is the fact that some of our clients have been with us since the beginning over three decades ago.
COVID 19 SAFETY PROTOCOL
Massage Therapy Center of Winnetka is dedicated to the safety and well-being of our staff and clients.  We've implemented safety protocol in alignment with local and federal recommendations.  An overview of our safety protocol is below:
We leave 30 minutes between each appointment to ensure ample time to sanitize and disinfect the treatment room. Each room is wiped clean with EPA registered disinfectant before and after every client.  Treatment times are staggered to avoid overlap with others in common areas. Medical grade HEPA air purifiers are in all treatment rooms.
Please note the following when scheduling and arriving for your appointment:
– All clients and staff will be required to wear protective face coverings.  If clients do not have a mask upon arrival, a disposable one will be provided. Masks must be worn by all for the entirety of time in the clinic.
– Hand Sanitizer will be available throughout the clinic. Every client must sanitize their hands upon entering.
– You will be required to answer the following questions, and have your temperature taken:
Have you had a cough, fever, fatigue in the past 14 days?
Have you been around anyone exhibiting these symptoms or has been quarantined in the past 14 days?
If you answer yes to any of the following, or your temperature is above 99 degrees, your appointment will need to be rescheduled.  If you are experiencing any of the above symptoms prior to your appointment, please call to reschedule.
Our goal is to keep our clients and staff safe while performing the therapeutic, healing work we are accustomed to.  Please feel free to contact us at 
reception@massagewinnetka.com
or 847-446-5700 with any questions. Thank you again for your continued support and patience and we look forward to seeing you soon!